QuattroPlowXT (10,000-15,000 LBS)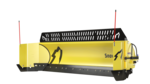 SnowWolf

QuattroPlowXT (10,000-15,000 LBS)
Snow Removal
Bigger Machines Demand Extra Toughness.
Built for Mid-weight to Heavy Machines. The QP-XT Series AutoWing plow is a standardized package that was devised to meet the needs of the mid-weight to heavy equipment operator. When your customer wants "Heavy-duty," recommend the QuattroPlowXT that comes with the following standard applications:
/ Patented HD FlexFrame™
/ Floating AR400 Steel Sideplate Shoes
/ Patented Cushioned Sideplate Mounts
/ Reinforced Moldboard Construction
/ SpillGuard
The QP-XT Package is available in the popular 9' (126), 10' (138) and 11' (150) moldboard widths. It's ideal for Compact Wheel Loaders, Skid Steers or Compact Track Loaders over 10,000 lbs.
QuattroPlowXT: 10,000-15,000 LBS.
| Model | QPXT-126 | QPXT-138 | QPXT-150 |
| --- | --- | --- | --- |
| Blade Width | 9.0' | 10.0' | 11.0' |
| Blade Height | 30.7" | 30.7" | 30.7" |
| Width in Backdrag Position | 126" | 138" | 150" |
| Maximum Width | 154" | 166" | 178" |
| Unit Weight (lbs.) | 1,464 | 1,540 | 1,575 |
Features
Reinforced Moldboard Construction

Patented Cushioned Sideplate Mounts

SpillGuard

Floating AR400 Steel Sideplate Shoes

Patented HD FlexFrame
Details

QuattroPlowXT: 10,000-15,000 LBS.

| Model | QPXT-126 | QPXT-138 | QPXT-150 |
| --- | --- | --- | --- |
| Blade Width | 9.0' | 10.0' | 11.0' |
| Blade Height | 30.7" | 30.7" | 30.7" |
| Width in Backdrag Position | 126" | 138" | 150" |
| Maximum Width | 154" | 166" | 178" |
| Unit Weight (lbs.) | 1,464 | 1,540 | 1,575 |

Features

Features

Reinforced Moldboard Construction

Patented Cushioned Sideplate Mounts

SpillGuard

Floating AR400 Steel Sideplate Shoes

Patented HD FlexFrame

Specifications
Other Snow Removal Models