High-Capacity Electric Cushion (15,000-40,000 LBS)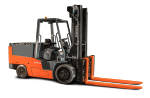 Toyota

High-Capacity Electric Cushion (15,000-40,000 LBS)
High Capacity Forklifts: Cushion
Overview
The Toyota High-Capacity Electric Cushion Forklift gives you the versatility to lift massive loads without the need of traditional IC engines. The versatile electric power and high visibility combined with a large 92-inch wheelbase means you'll have the power you want and the maneuverability you need for your heaviest indoor duties.
Technological Advancement on Display
Every forklift in the Toyota THD line comes equipped with a MD4 7" Touchscreen Display. It combines the rugged power of the THD model lineup with the latest advancements in forklift technology to put ultimate customization, advanced diagnostics, and pertinent forklift information right at your fingertips.
Continued Performance
More forklift owners are seeking out equipment that will help them keep lifting for years in the future. Toyota offers some of the top-manufactured equipment on the market, and the High-Capacity Electric Cushion forklift is one of our most dependable heavy application models. To keep this and all of your other Toyota manufactured equipment running long into the future, consider a Planned Maintenance (PM) plan, where trained Toyota technicians will use only Toyota Genuine Parts to keep your rig lifting and moving.
High-Capacity Electric Cushion Forklift
| Model Number | Load Capacity* (lbs.) | Max. Travel Speed Full Load (MPH) | Max. Lift Speed Full Load (FPM) | Max. Gradeability Full Load (%) | Basic Right Angle Stack** (IN.) |
| --- | --- | --- | --- | --- | --- |
| THDE1500-24 | 15,000 | 5.2 | 39.5 | 15 | 134 |
| THDE1800-24 | 18,000 | 5 | 39.5 | 22.5 | 139.2 |
| THDE2000-24 | 20,000 | 4.7 | 34.5 | 19.9 | 140 |
| THDE2200-24 | 22,000 | 4.6 | 34.5 | 18.7 | 140 |
| THDE3000-24 | 30,000 | 4.1 | 24 | 13.1 | 153.8 |
| THDE3000-30 | 30,000 | 4.1 | 24 | 12.5 | 156.35 |
| THDE3500-24 | 35,000 | 4 | 24 | 12 | 156.3 |
| THDE3500-30 | 35,000 | 3.9 | 16 | 10.8 | 173.5 |
| THDE4000-24 | 40,000 | 3.7 | 16 | 10.6 | 173.5 |
| THDE4000-30 | 40,000 | 3.7 | 16 | 9.9 | 173.5 |
Features
Loaded Center of 24" or 30"

Readily accessible lubrication points

Brakes serviceable without removing entire drive axle

Two-coat powder rust-inhibiting polyurethane paint

Drum-Type Brake System

Low-height, non-skid steps

Load sensing hydraulic system for optimal performance

Transistor Control Monitors

72/80-Volt Configurations

EMISSIONS: 0

Hydraulic Multi-Gauge for convenient fluid checks

Left-hand shift lever

HP Drive Motor: 42.5

Finger-tip hydraulic controls

Easy seal replacement on chrome-plated rod cylinders

Easily accessible drive motor

Cab Meets ANSI Requirements

Safety Valves in Cylinder Bases

AC Drive and Pump Motors

Volt Battery: 72 | 80

Heavy Duty Planetary Drive Axle

Emergency Stop

Overhead Guard Improves Operator Protection and Promotes Visibility

42.5 HP Drive Motor

Tilt steering column

2 ¾ turn lock-to-lock steering wheel
Specifications
| | |
| --- | --- |
| Length to Forkface: | 125.93 - 155.59 |
| Load Capacity: | 15,000 - 40,000 lb. Load Capacity |
| Model Types Available: | 10 Model Types Available |
| Overall Width: | 62.99 - 72.44 in |
| Overhead Guard Height: | 93.57 - 102.56 in |
| Travel Speed Full Load: | 3.7 - 5.2 mph Travel Speed Full Load |
Links
Other High Capacity Forklifts: Cushion Models