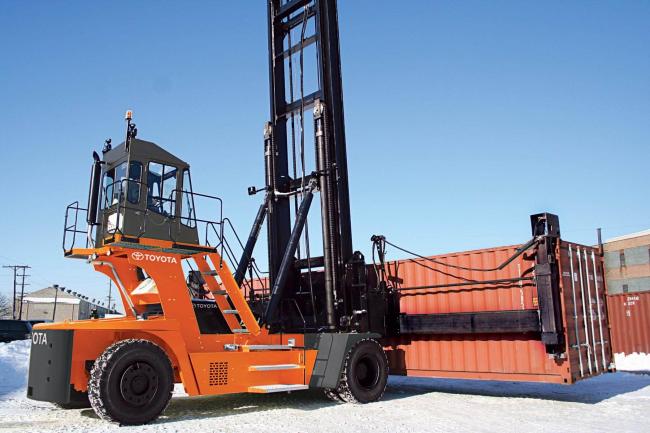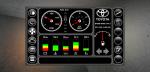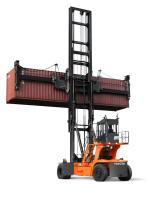 Toyota

Empty Container Handler
Container Handlers
Overview
The Toyota Empty Container Handler is engineered to provide fast lifting cycles, high stacking and reduced freight costs. The Toyota Empty Container Handler can stack up to 8 high and can travel at speeds up to 25 MPH.
Technological Advancement on Display
Every forklift in the Toyota THD line comes equipped with a MD4 7" Touchscreen Display. It combines the rugged power of the THD model lineup with the latest advancements in forklift technology to put ultimate customization, advanced diagnostics, and pertinent forklift information right at your fingertips.
Empty Container Handler
| Model Number | Load Capacity* (lbs.) | Max. Travel Speed Full Load (MPH) | Max. Lift Speed Full Load (FPM) | Max. Gradeability Full Load (%) | Basic Right Angle Stack** (IN.) |
| --- | --- | --- | --- | --- | --- |
| THD1500-E3 | 15,000 (3-High) | 25 | 133 | 15.9 | 429 (20' cont.) / 535 (40' cont.) |
| THD1500-E4 | 15,000 (4-High) | 25 | 133 | 15.9 | 429 (20' cont.) / 535 (40' cont.) |
| THD1980-E5 | 19,800 (5-High, 8'6" cont.) / 19,800 (4-High, 9'6" cont.) | 17 | 125 | 23 | 416 (20' cont.) / 559 (40' cont.) |
| THD1980-E6 | 19,800 (6-High, 8'6" cont.) / 19,800 (5-High, 9'6" cont.) | 17 | 125 | 23 | 416 (20' cont.) / 559 (40' cont.) |
| THD1980-E7 | 19,800 (7-High, 8'6" cont.) / 19,800 (6-High, 9'6" cont.) | 17 | 125 | 23 | 416 (20' cont.) / 559 (40' cont.) |
| THD1980-E8 | 19,800 (8-High, 8'6" cont.) / 19,800 (7-High, 9'6" cont.) | 17 | 125 | 23 | 416 (20' cont.) / 559 (40' cont.) |
Features
Intuitive Multi-Function Single Joystick Control

Integral Slope Piler Carriage

12-Plate Modulation

Cummins 6.7 Liter, 215HP Turbocharged Diesel Engine

Unique Mast Design
Specifications
| | |
| --- | --- |
| Containers High: | 8 Containers High |
| Diesel: | Fuel Type Diesel |
| Travel Speed Full Load: | 17 - 25 mph Travel Speed Full Load |
Links