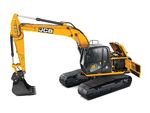 JCB

JS190 Excavator
Excavators
The JCB JS190 is in the 19.5 ton category of our range of heavy track excavators. It's engineered with exceptional strength, productivity, efficiency, comfort, safety and ease of maintenance.
A closed box section revolving frame increases strength and reduces stress. It also makes these excavators highly resistant to impact damage. We've used strong parts too – premium industry standards in fact. Meanwhile, this excavator's engine is a highly efficient Tier 4 compliant JCB EcoMax engine. The benefits of the JS190 series of track excavators doesn't end there either.
Features
OPERATOR COMFORT AND SAFETY: We've designed the JCB JS190 excavator to be comfortable, safe, ergonomic, simple and intuitive to operate. Which is good for operators, but even better for you; after all, great ease of use equals great productivity. Cushioned boom and dipperends prevent shock loadings, protect your machine and increase operator comfort, while 6 viscous rubber mounts minimize noise and vibration levels. A 70/30 front windshield split for a clear view of the front right track, plus a large laminated glass roof window provide this 19.5 ton excavator with exceptional all-around visibility. To keep everything under control, the JCB JS190 track excavators have a balanced slew and electronic/hydraulic controlled slew braking. Function switches are easy to reach and include the heater and climate control panels, while the side unit doubles as part of the immobilizer code selector.

Spacious, comfortable cab design with excellent visibility

Class leading maintenance access

26,100 lbf bucket tearout

Robust, durable upper structure and doors

STRENGTH: Before you buy a track excavator, you need to know it's going to be tough enough to perform any job you ask of it. Fortunately, with a JCB JS190, strength and durability come standard. We use Finite Element Analysis with extensive rig and endurance testing to make these 360 excavators last longer. A JCB JS190's reinforced boom and dipper is made of high tensile strength steel, with single piecewrapper plates and internal baffle plates for long life durability. The high-strength undercarriage of a JS190 19.5 ton excavator is of a fully-welded X-frame construction for long-term durability even in the most demanding applications, and the rigid upper frame provides maximum durability and support. The turret on JS190 track excavators is then welded to both the upper and lower undercarriage frames. Stiff, durable doors provide further strength.

SERVICEABILITY: We've designed the JCB JS190 track excavators to be low maintenance and easily serviceable. Which makes them affordable, efficient and highly productive. Hoods open and close easily with gas-assisted cylinders, and the service bays are large and wide for good access. 1000-hour boom and dipper greasing intervals and a 5000-hour oil life provide maximum uptime on these excavators. Grease points are centralized on a JS190 19.5 ton excavator too, for safe and easy access to high level pivots. Because they're mounted side-by-side, the JS190 excavator's engine radiator, hydraulic cooler and intercooler can be serviced individually and cleaned easily.

Tier 4F EcoMax engine

PRODUCTIVITY: It's more important than ever to save money and time so it's just as well that JCB JS190 track excavators are designed to make the most of both. Our Tier 4 Final compliant JCB EcoMax motor produces high torque at low revs for greater efficiency. There's a massive 26,100 lbf bucket tearout for superb productivity, and the JCB JS range quickhitch system makes attachment changes fast and easy. Simultaneous tracking and excavating is smooth and fast with an intuitive multi-function operation, and four operating work modes allow a JS190 excavator operator to tailor performance to any application. Light, general, heavy and heavy plus modes provide very different optimized settings.
Specifications
| | |
| --- | --- |
| Maximum Dig Depth: | 21'8" |
| Maximum Engine Power: | 125 hp |
| Maximum Operating Weight: | 43,896 lb |
Features

Features

OPERATOR COMFORT AND SAFETY: We've designed the JCB JS190 excavator to be comfortable, safe, ergonomic, simple and intuitive to operate. Which is good for operators, but even better for you; after all, great ease of use equals great productivity. Cushioned boom and dipperends prevent shock loadings, protect your machine and increase operator comfort, while 6 viscous rubber mounts minimize noise and vibration levels. A 70/30 front windshield split for a clear view of the front right track, plus a large laminated glass roof window provide this 19.5 ton excavator with exceptional all-around visibility. To keep everything under control, the JCB JS190 track excavators have a balanced slew and electronic/hydraulic controlled slew braking. Function switches are easy to reach and include the heater and climate control panels, while the side unit doubles as part of the immobilizer code selector.

Spacious, comfortable cab design with excellent visibility

Class leading maintenance access

26,100 lbf bucket tearout

Robust, durable upper structure and doors

STRENGTH: Before you buy a track excavator, you need to know it's going to be tough enough to perform any job you ask of it. Fortunately, with a JCB JS190, strength and durability come standard. We use Finite Element Analysis with extensive rig and endurance testing to make these 360 excavators last longer. A JCB JS190's reinforced boom and dipper is made of high tensile strength steel, with single piecewrapper plates and internal baffle plates for long life durability. The high-strength undercarriage of a JS190 19.5 ton excavator is of a fully-welded X-frame construction for long-term durability even in the most demanding applications, and the rigid upper frame provides maximum durability and support. The turret on JS190 track excavators is then welded to both the upper and lower undercarriage frames. Stiff, durable doors provide further strength.

SERVICEABILITY: We've designed the JCB JS190 track excavators to be low maintenance and easily serviceable. Which makes them affordable, efficient and highly productive. Hoods open and close easily with gas-assisted cylinders, and the service bays are large and wide for good access. 1000-hour boom and dipper greasing intervals and a 5000-hour oil life provide maximum uptime on these excavators. Grease points are centralized on a JS190 19.5 ton excavator too, for safe and easy access to high level pivots. Because they're mounted side-by-side, the JS190 excavator's engine radiator, hydraulic cooler and intercooler can be serviced individually and cleaned easily.

Tier 4F EcoMax engine

PRODUCTIVITY: It's more important than ever to save money and time so it's just as well that JCB JS190 track excavators are designed to make the most of both. Our Tier 4 Final compliant JCB EcoMax motor produces high torque at low revs for greater efficiency. There's a massive 26,100 lbf bucket tearout for superb productivity, and the JCB JS range quickhitch system makes attachment changes fast and easy. Simultaneous tracking and excavating is smooth and fast with an intuitive multi-function operation, and four operating work modes allow a JS190 excavator operator to tailor performance to any application. Light, general, heavy and heavy plus modes provide very different optimized settings.

Specifications

Specifications

| | |
| --- | --- |
| Maximum Dig Depth: | 21'8" |
| Maximum Engine Power: | 125 hp |
| Maximum Operating Weight: | 43,896 lb |